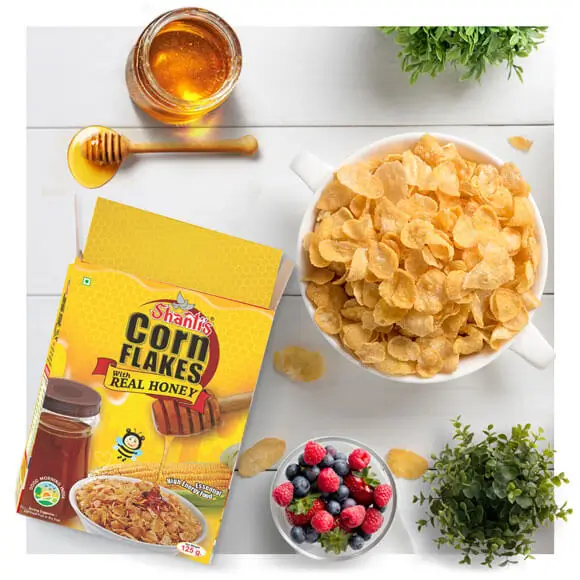 Corn Flakes with Honey
Shanti's Corn Flakes with honey is a tasty, nourishing and wholesome breakfast. Made from carefully chosen ingredients, these flakes are gluten free and have no artificial colors. It is a perfect choice to give you and your family the goodness of real honey and corn flakes every morning.
A bowl of Shanti's Honey Corn Flakes is ideal to start the day. And, you can add milk the flavored flakes to enhance the richness of the cereal. Also, milk makes the flakes softer. Although, Shanti is already known to be one of the best flavored corn flakes manufacturers and honey corn flakes manufacturers.
Why is Shanti known as one of the top honey corn flakes exporters, honey corn flakes suppliers and honey corn flakes manufacturers in India?
There are several reasons that make Shanti, a leading flavored corn supplier, flavored corn exporter and flavored corn manufacturer in India. One of the reasons is that we use only the best possible ingredients to make corn flakes. We have in house experts that select the best vendors who supply fresh and healthy ingredients. Therefore, we have gained the trust of the customers and we have become a paramount flavored corn flakes manufacturer and honey corn flakes manufacturer in the country.
Nutritional Information
*Approximate Values
| Title | Typical Value for 100g | 30g serving With 120ml skims |
| --- | --- | --- |
| Energy (kcal) | 388 kcal | 154 kcal |
| Energy from Fat | 3.75 kcal | 3.42 kcal |
| Total Fat | 0.42g | 0.38g |
| Saturated Fatty Acids | 0.27g | 0.19g |
| Monounsaturated | 0.10g | 0.13g |
| Polyunsaturated Fatty Acids | 0.0g | 0.05g |
| Trans Fatty Acids | 0.0g | 0.0g |
| Cholesterol | 0.0mg | 0.0mg |
| Total Carbohydrates | 89.97g | 33.18g |
| Of which Sugar (Sucrose) | 22.64g | 6.80g |
| Dietary Fiber | 4.66g | 1.41g |
| Protein | 6.0g | 4.71g |
| Sodium | 0.48mg | 0.17mg |
| Iron | 9.3mg | 2.70mg |
| Calcium | 23.93mg | 35.10mg |