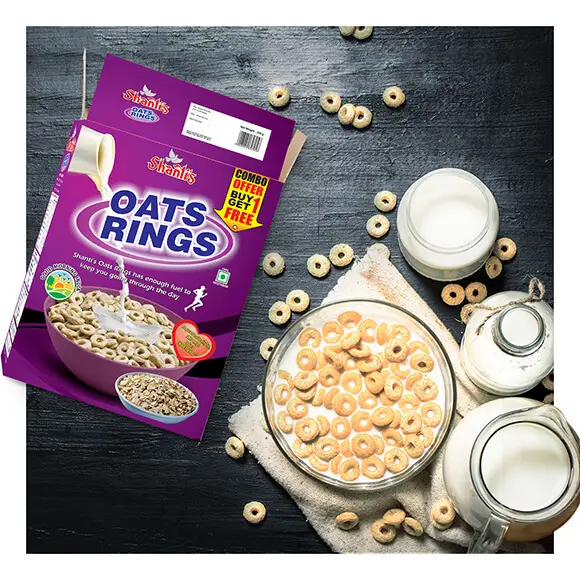 Oats Rings
Shanti's Oats Rings are obtained by extruding a mixture of oat flour, rice flour, sugar & salt. They come in the form of crispy rings and are off white in color. Shanti's Oat flakes are served with milk, but these can also be tried as a snack.
Oats are extremely healthy and wholesome. There are tons of health benefits of oats, and we have been reading about the benefits since oats have entered the mainstream market. Therefore, there is definitely nothing better having a bowl of oats in the morning. Shanti's Oats Rings are made by extruding the oat and rice flour. They also contain a mixture of sugar and salt. And, some of the oats rings contain the goodness of chocolates. Therefore, Shanti is known as one of the best oat ring exporter, oat ring suppliers and oat ring manufacturers in India.
Shanti's Oat Rings are tremendously crispy and they are enriched with a bunch of nutrients. Oats rings are generally white in color, but choco rings are slightly brownish in color as they are enriched with the goodness of chocolate. The choco rings or the oat rings can be eaten with a glass of milk or a bowl of yogurt. You may have the rings as snacks as well.
Shanti has been recognized as one of the best choco ring exporters, choco ring suppliers and choco ring manufacturer in India. Thus, there is nothing better than buying a bowl of Shanti' Choco Rings if you want to have a wholesome breakfast!
Nutritional Information
*Approximate Values
| Title | Per Serving 100g | Per Serving Size 30g |
| --- | --- | --- |
| Energy (kcal) | 361 | 108.3 |
| Protein (g) | 5 | 1.5 |
| Total Fat (g) | 1 | 0.3 |
| Saturated Fat (g) | 0 | 0 |
| Trans Fat (g) | 0 | 0 |
| Cholesterol (mg) | 0 | 0 |
| Total Carbohydrates (g) | 83 | 24.9 |
| Dietary Fiber (g) | 11 | 3.3 |
| Sugar (g) | 35 | 10.5 |
| Sodium (g) | 387 | 116.1 |
| Iron (mg) | 3 | 0.9 |