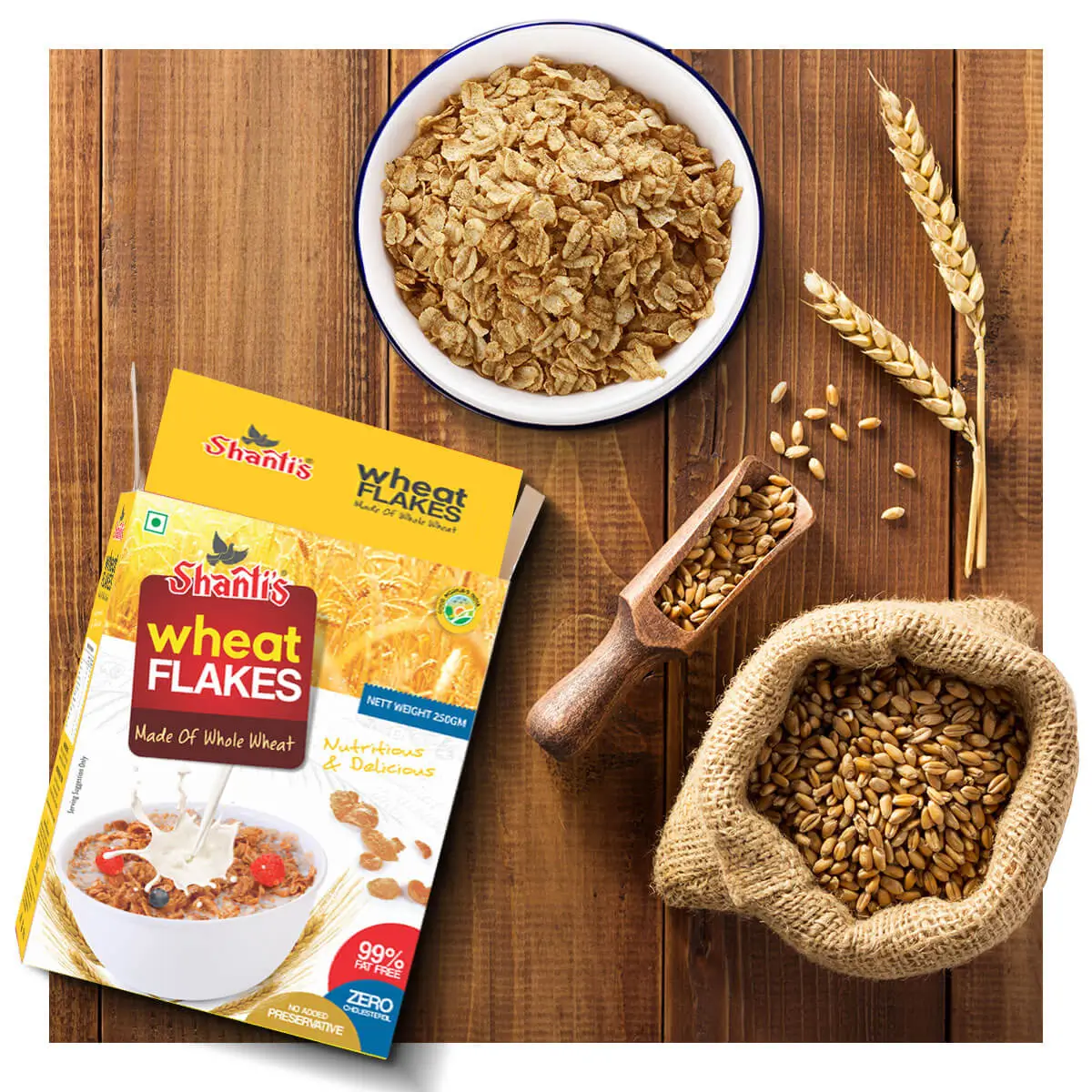 Wheat Flakes
Shanti's wheat flakes are made from premium quality raw material which makes it an energy packed, delicious breakfast option with high nutritive value. Shanti's Wheat Flakes are packed in airtight, moisture proof poly bags sealed cartons, so that the content stays crispy and fresh.
Shanti's Wheat Flakes are made from the highest quality wheat. We have partnered with the top vendors who deliver top quality wheat for the manufacturing of the flakes. Therefore, Shanti is recognized as one of the preferred and loved wheat flakes exporters and wheat flakes manufacturers in India. Shanti has been in the industry for a very long time. And, we have gained the reputation of being one of the topmost wheat flakes suppliers in the country as we manufacture the best quality products for the customers.
Wheat flakes are an excellent breakfast option for the fitness enthusiasts. They have high nutritive value. Also, they are very quick and convenient to have! All you have to do is, add a small quantity of mil to the flakes to make a delicious and healthy breakfast. You may add fruits and nuts to add the taste of the meal. Although, these healthy flakes can be used to make tasty bars and cakes as well.
Nutritional Information
*Approximate Values
| Title | Typical Value for 30g | 30g serving with 120ml skims |
| --- | --- | --- |
| Energy | 110 kcal | 153 kcal |
| Energy from Fat | 3 kcal | 4 kcal |
| Total Fat | 0.3 g | 0.5 g |
| Saturated Fatty Acids | 0 g | 0 g |
| Monounsaturated | 0 g | 0 g |
| Polyunsaturated Fatty Acids | 0 g | 0 g |
| Cholesterol | 0 mg | 0 mg |
| Total Carbohydrates | 23 g | 31 g |
| Of which Sugar (Sucrose) | 1 g | 1.8 g |
| Dietary Fiber | 1.5 g | 1.8 g |
| Protein | 3.5 g | 5.8 g |
| Sodium | 0.2 g | 0.25 g |
| Calcium | 20 g | 102 g |