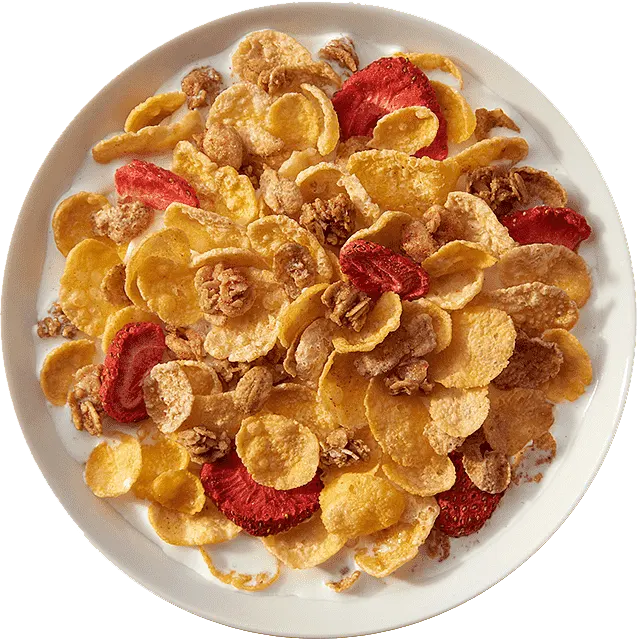 Cereals Breakfast Suppliers
At Shanti Foodchem Pvt Ltd, We take pride in our years of experience and expertise as a leading Cereal Breakfast Company. We have established a robust global network as a Private label Cereals India. Our unwavering commitment to excellence ensures the reliable and timely delivery of high-quality cereal breakfast products.
Our mission is clear: to provide sustainable and innovative solutions that cater to the unique needs of our clients and foster growth within the agro-industrial sector. We also support businesses of all sizes in their endeavors to expand globally. Our dynamic and driven team of professionals delivers exceptional products and services to international clients.
Your Trusted Cereal Breakfast Supplier
Unrivaled Product Range
Our product portfolio boasts a diverse array of top-quality cereal goods sourced both domestically and internationally. This comprehensive selection ensures that we are well-equipped to meet the varied demands of our clientele. However, our commitment does not stop at products alone.
Comprehensive Service Packages
Recognizing that success in the global market requires more than just exceptional products, we go the extra mile by offering comprehensive service packages. These packages encompass logistics and transportation, seamless customs clearance, and rigorous quality control measures. Our integrated services have empowered the success of our international partners, allowing them to focus on their core competencies while we handle the intricacies of the supply chain.
Private Label Cereals India
Crafting Distinctive Brands through Custom Labels
Our dedicated R&D team, composed of food scientists, nutritionists, and pharmacists, collaborates to create custom nutrition-based formulas tailored to your specific requirements. Elevate your brand identity with our customizable labeling options, ensuring that your products reflect the unique essence of your business. Our collaborative approach extends across diverse positioning of our clients for success in the competitive international market.
Your Recipe or Ours: White Label Excellence
Embrace the freedom to showcase your recipe or leverage one of our time-tested formulations. With over five decades of experience, we have been instrumental in nurturing new businesses and brands, propelling them to success in the market. Witness your vision come to life as we work together to create healthy and nutritious offerings that resonate with your target audience.
Packaging Solutions That Shine
The appearance of your product is paramount, and at Mulder Breakfast Cereals, we excel in packaging solutions that captivate. Whether you prefer printed foil, a convenient bag-in-box, or any other packaging style, our seasoned experts are here to actualize your preferences. Seamlessly integrate your branding elements, including artwork, logo, and images, with our high-resolution color laser printing systems. Experience efficiency and excellence in every aspect of the packaging process:
Share Your Needs
Select your desired product and quantity, and receive a detailed proforma and invoice.
Artwork and Design
Provide your creative assets, and watch as our experts craft a professional label reflecting your brand identity within 4-5 business days.
Print and Deliver
Once approved, your custom label is impeccably printed and swiftly delivered, ensuring a standout product presentation.
Tailored Packaging Options
From stand-up pouches to display-ready cases, we offer an array of retail packaging options that seamlessly align with your brand identity and vision:
Stand-up pouch
Bag in box
Pillow pouch
Cups
Single-serve and multipack
Display-ready cases
Bulk Pack
Leading Breakfast Cereals Company
Nestled in the heart of Rajkot, Gujarat, Shanti Foodchem Pvt Ltd stands as a beacon of excellence in breakfast cereals. With an unwavering commitment to quality, we have earned our reputation as a premier instant breakfast cereal exporter, diet food supplier, and breakfast cereals brand in India.
From humble beginnings, we have consistently met 100% client satisfaction, cementing our status as a trusted cereal supplier. Among all the breakfast cereal manufacturers in India, Shanti shines as a beacon of trustworthiness and excellence. Join us on a path of taste, health, and innovation that has captivated cereal enthusiasts across India.
Nutrition-Packed Start to Your Day
Our breakfast Cereals are famous for their exceptional nutritional value and convenience. At Shanti, we craft breakfast cereals that not only tantalize your taste buds but also provide a wholesome start to the day. Nutritionists ensure that each Cereal boasts a rich nutrient profile, making us a frontrunner in the instant breakfast cereal industry.
Pioneering Health and Taste
Our commitment to health extends beyond nutrition. The fiber-rich Shanti cereals align seamlessly with our objective to provide health-conscious consumers. Meticulous sourcing, quality control, and innovation make us one of the prominent Cereals breakfast suppliers and instant breakfast cereal manufacturers in India.
Why Shanti Stands Out as a Cereal Breakfast Company in India?
Delicious Nutritional Marvels
At Shanti, we believe exceptional taste and nutrition go hand in hand. We craft cereals thoughtfully to deliver a delightful sensory experience while packing a punch of essential nutrients.
Affordable Excellence
Being a top breakfast cereal supplier in India is not just about quality but also accessibility. Our commitment to reasonable pricing ensures that our cereals grace breakfast tables across India.
A Spectrum of Choices
Shanti's breakfast cereals cater to a broad spectrum of preferences. From traditional classics to innovative creations, we offer multiple variants making us the versatile cereal manufacturer in India.
Premium Ingredients, Premium Taste
We take pride in sourcing only the finest ingredients, guaranteeing a premium taste experience that keeps our customers asking for more.
Hygiene and Innovation
Impeccable cleanliness standards form the bedrock of our production, safeguarding the quality and safety of every product. Our relentless pursuit of innovation propels us to introduce cutting-edge cereal varieties and embody the fusion of tradition and modern trends.
A Legacy of Excellence
With a long history of making cereals, Shanti Foods is known for being excellent at it. Our focus on making quality cereals, being creative, and satisfying customers has made us a trusted name as a Breakfast Cereals Company in the cereal industry.