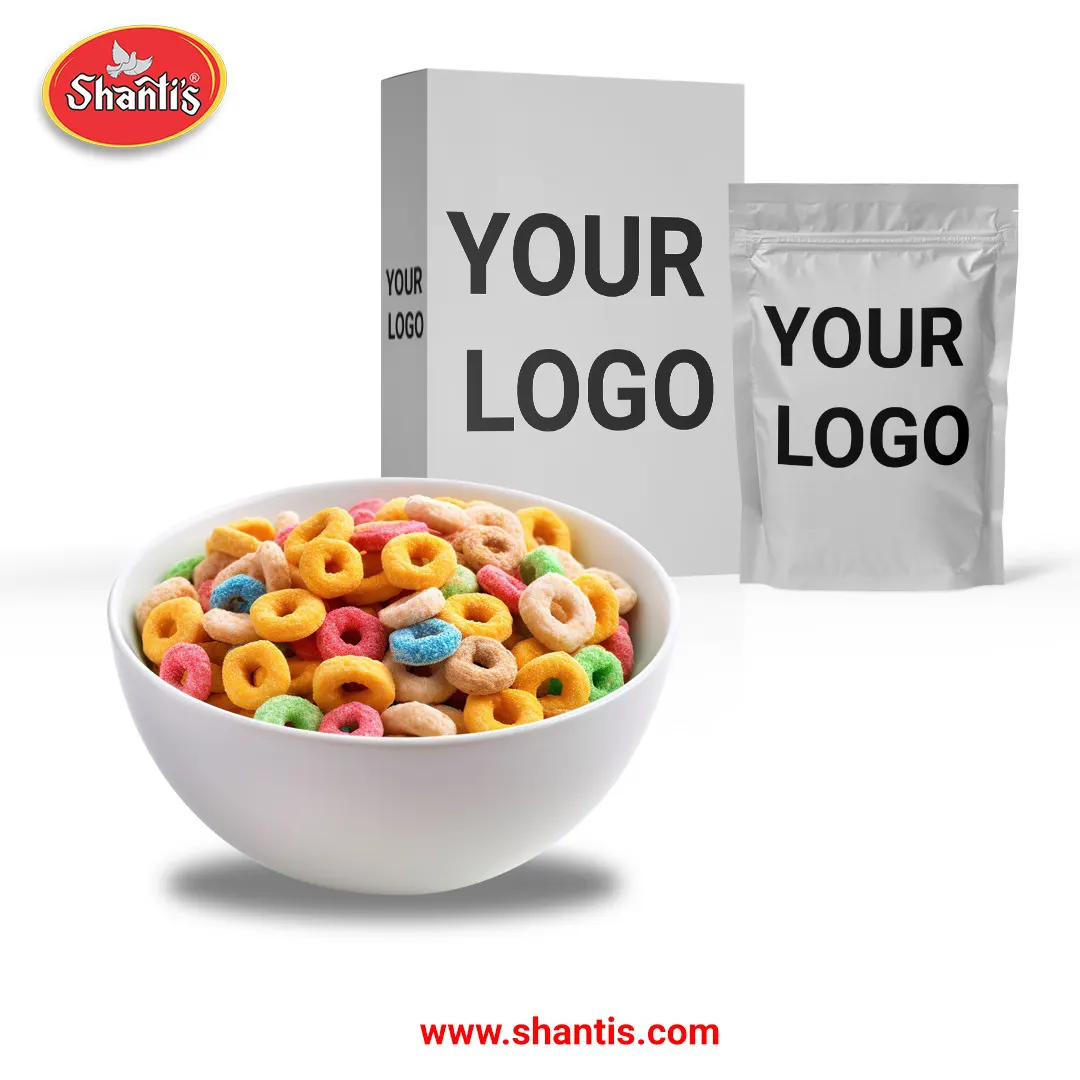 Leading Peanut Butter Suppliers India
A Breakfast Revolution for a Healthier Life
We, At Shanti's Foodchem Pvt Ltd, Your Leading peanut butter suppliers in India, are more than just a brand - we are a beacon of health and wellness. With an unwavering commitment to manufacturing and supplying premium quality breakfast cereals, we ignite a breakfast revolution worldwide. Our dedication to quality and customer satisfaction sets us apart as leaders in the market. We stand as a symbol of responsibility and loyalty, consistently exceeding the expectations of our stakeholders. Our products are not just to tantalize your taste buds, But to infuse your life with nourishment, quality, and joy.
Why Choose Shanti Peanut Butter?
Manufacturing Natural Perfection
Shanti Peanut Butter is a true testament to purity. We make it with just one ingredient - the finest-grade peanuts. A protein-packed addition to your diet, it elevates your nutrition while satisfying your palate. Our commitment to excellence is evident in every jar, as we meticulously source fresh, nutritious ingredients from an ISO Certified and FSSAI-approved Factory. Daily manufacturing ensures you receive the purest product with authenticity and wholesomeness.
Your Partner in Health
Being one of the renowned peanut butter suppliers India, we understand the diverse needs of our consumers. Our Peanut Butter is the ideal companion for weight watchers, athletes, and anyone pursuing holistic well-being. Its high protein content, absence of added salt, sugar-free, and nutrient-dense profile make it a must-have for those dedicated to their health journey. We believe in nourishing your body, one spoonful at a time.
Uncompromised Quality
Our commitment to quality extends beyond ingredients. Our state-of-the-art machinery, imported from Canada, churns out the finest Peanut Butter using cutting-edge technology. Within our in-house laboratory, equipped with the latest technological equipment, every batch undergoes rigorous testing for Aflatoxin, Salmonella, and other crucial parameters. This unrelenting pursuit of excellence drives our continuous R&D efforts, ensuring our products consistently evolve and elevate.
We are Assuring Excellence, Every Step of the Way
Superior peanuts
We begin with sourcing the best-assorted peanuts, laying the foundation for exceptional taste and quality.
Custom brands production
Our expertise in private label manufacturing transforms your brand into reality, driven by uncompromising quality.
Excellence
We take pride in assuring top-notch quality, making every spoonful of our peanut butter a testament to excellence.
Product variants with aromatic flavors
Your vision, our execution - we manufacture natural peanut butter flavors tailored to your specifications.
Private Label Peanut Butter Suppliers in India
Empowering brands with Private Labeling manufacturing
Our expertise extends beyond our brand. Shanti Foods offers private labeling services, embodying your vision and values in each jar of Peanut Butter. With the same dedication and precision, our white-label manufacturing process guarantees unwavering quality. Our triple-shorting process for peanuts, meticulous impurity checks, and stringent hygiene practices ensure we represent your brand with integrity.
Owning your peanut butter brand requires substantial investment and an intricate setup. Shanti Foodchem Pvt Ltd is one of the prominent private label peanut butter suppliers India offers you a shortcut to realizing your dream. Our private white-label peanut butter manufacturing empowers you to personalize your product, free from the hassles of production and regulation. Your unique recipe and our manufacturing prowess - together, we create a winning combination.
Shanti Peanut Butter: A Blend of Taste and Health
Peanut Butter stands as a beloved delight for both adults and children. Beyond its irresistible taste lies a treasure trove of health benefits. Made from ground, dry-roasted peanuts, it is a food paste that embraces your well-being. As leaders in the peanut butter industry, we pledge to be your steadfast partner in nourishment, supporting your journey to holistic well-being. Choose us - your path to a healthier, tastier, and more fulfilling life.
Product Description
Creamy/Crunchy Peanut Butter
Creamy or Crunchy? Choose your texture - indulgent smoothness or satisfying crunch - to elevate your culinary experience. Experience a symphony of rich, nutty flavors that captivate your taste buds with an impressive 97% reduction in oil separation.
Essential Fatty Acids
Natural mono and polyunsaturated fats offer dual benefits - lowering LDL cholesterol and enhancing brain function.
Guilt-Free Snacking
The protein and healthy fats satiate your appetite, promoting healthy weight management.
Natural Antioxidant Boost
With polyphenols, the butter spread combats free radicals, fostering healthy aging and disease prevention.
Plant-Based Protein
As a protein-packed powerhouse, it is a must-have for those embracing plant-based nutrition.
No Nasty Ingredients
Crafted with one ingredient - premium roasted peanuts - it is a guilt-free addition to your fitness regimen.
High in Protein & Fiber
Offering 30g of protein and 9g of dietary fiber per 100g, it's a nourishing addition to your diet.
No Added Sugar
Pure and unadulterated, our peanut butter is free from any added sugars.
Versatile Delight
Whether on rice cakes, desserts, smoothies, or as a quick snack, Peanut Butter enriches every bite.
The Shanti's Difference
We have crafted peanut butter with integrity, from sourcing to roasting.
Availability
Pack Size-350GM JAR|500GM JAR|1 KG JAR
Bulk Pack-20 kg
Nutritional Information
*Approximate Values
Serving Size: 32 gm
Number of servings per Pack: Approx = 31
Title
Per 100 Gm
Per Serving
# RDA % Per Serving
Energy (Kcal)
625.00
200
10.00%
Protein (g)
26
8.32
Total Carbohydrates (g)
19
6.08
Dietary Fiber (g)
5.00
1.6
Total Sugar (g)
10
3.2
Added Sugar (Sucrose)(g)
7.00
2.24
4.48%
Total Fat (g)
50
16
23.88%
Saturated Fat (g)
10
3.2
14.54%
Trans Fat (g)
0
0
0.00%
Cholesterol (mg)
0
0
Sodium (mg)
350
112
5.60%
# THE % RDA IS BASED ON A 2000 CALORIE DIET