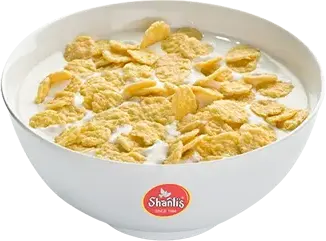 Corn Flakes Manufacturers India
Crafting Perfection for Your Plate, we take immense pride in being the leading cornflake manufacturer in India. Our state-of-the-art facilities and unwavering dedication to quality ensure that every bowl of our Corn Flakes is a testament to our commitment to excellence. With each bite, taste the precision, care, and passion that go into creating the perfect breakfast.
Why Choose Shanti Corn Flakes?
Imagine a morning where every bite is a burst of flavor and wellness. Shantis, one of the leading corn flakes suppliers Canada, India, etc., offers several advantages described below.
Savoring Sweetness
Indulge in the sheer joy of Shanti cornflakes, made from the crispiest and freshest sweet corn sourced directly from fields known for their excellence. Each spoonful is vitality for a day filled with energy and enthusiasm.
Nourishing Combinations
Elevate the breakfast game every day. It is not just a cereal; but a canvas for your creativity. Pair it with fresh fruits, nuts, or yogurt to create a breakfast masterpiece that satisfies your taste buds and nourishes your body. Embrace the endless possibilities of a breakfast that is as nutritious as delicious.
A Nutritional Powerhouse
Fuel Your Well-Being Packed with a balanced blend of essential vitamins and minerals. Corn flakes are a nutritional powerhouse that supports your mental and physical health. From vitamins A and B to iron, our cornflakes provide the nutrients to tackle the day with vigor and vitality.
A Symphony of Flavors
Explore the captivating range of our Corn Flakes flavors, each designed to cater to your unique taste preferences. From the irresistible Corn Flakes Strawberry, the harmonious Corn Flakes Honey Almond, the opulent Corn Flakes Saffron Pista to the wholesome Corn Flakes NO Added Sugar, our diverse selection ensures that every morning is a celebration of taste and pleasure.
Balancing Health and Taste
Corn Flakes strike the perfect balance between health and taste, offering a well-rounded combination of Proteins, fats, and carbohydrates. Fuel your body with sustained energy, enjoy a feeling of satiety, and relish a breakfast that complements your dietary goals.
A Tradition of Trust
Embracing Quality and Authenticity with a legacy of trust and authenticity, Corn Flakes symbolize more than just a breakfast choice; they embody a commitment to excellence. Generations of satisfied customers attest to the unwavering quality, safety, and effectiveness that define Shanti as a brand you can rely on.
Hear From Our Community
Explore the experiences and insights shared by our valued customers through user reviews. Gain valuable perspectives, both positive and constructive, as you make an informed decision that aligns with your taste and preferences.
Corn Flakes Suppliers Canada
A Taste of Excellence from North to North elevating your breakfast experience.
Experience the extraordinary with Shanti Corn Flakes, a breakfast delight meticulously crafted from the finest sweet corn sourced exclusively from the lush fields of Canada. Our commitment to quality and flavor ensures that each bite of our cornflakes is a journey of taste and nourishment, making your mornings super-exceptional.
Shanti Corn Flakes Breakfast Products
Your Gateway to Wholesome Mornings. Experience the magic of a well-balanced, wholesome start to your day with Shanti Corn Flakes Breakfast Products. From the enticing flavors to the exceptional nutritional value, our cornflakes are to energize, nourish, and delight. Transform your breakfast ritual into a celebration of taste and health with Corn Flakes.
Why Choose Shanti Cornflakes Breakfast Products?
Indulge in the diversity of taste and nourishment with our Corn Flakes variety. From invigorating flavors to luxurious combinations, each option promises a delightful and nourishing breakfast experience. Elevate your mornings with Corn Flakes - where flavors meet nutrition every morning.
Corn Flakes Strawberry: A Burst of Real Fruit Delight
Experience the refreshing taste of real strawberry puree in our Corn Flakes Strawberry. Each bite is infused with the goodness of succulent strawberries, providing a nourishing and delightful start to your day. Enjoy the vibrant flavor of strawberries all year round.
Real Strawberry Puree: Authentic strawberry flavor infused in every bite. Enjoy the taste of strawberries whenever you desire.
Begin your day with a burst of fruity goodness.
Available Pack Sizes: 250g or 375g for your convenience.
Cornflakes Honey Almond: Nutty Sweetness at Its Best
Indulge in the richness of almonds and the natural sweetness of honey with Shanti Cornflakes Honey Almond.
Nutrient-Rich Goodness breakfast choice that adds great taste to your busy mornings. Almonds and honey offer a balanced blend of flavor and nutrition.
Enjoy the combination of almonds and honey every day.
Versatile Enjoyment: Perfect with warm or cold milk.
Available Pack Sizes: 250g or 375g for your convenience.
Corn Flakes Saffron Pista: Regal Flavors in Every Bite
Enjoy the luxury of real saffron and the nutty goodness of pistachios with Shanti's Corn Flakes Saffron Pista.
A culinary masterpiece that boosts and energizes busy mornings.
Exquisite Flavor Fusion: Delight in the delicate notes of saffron and pistachios.
Revitalize your mornings with saffron and pistachios.
Enjoy with warm or cold milk.
Available Pack Sizes: 250g or 375g for your convenience.
Corn Flakes Rose Almond: Floral Symphony on Your Plate
Savor the subtle sweetness of rose and the nutty richness of almonds in Shanti's Corn Flakes Rose Almond. An enchanting blend loved by children and adults alike.
Real Rose Badam Fusion: Experience the magic of Real roses and almonds.
A wholesome and satisfying crunch of almonds meets delicate rose essence.
Family-Friendly: Loved by all ages for its captivating flavors.
Available Pack Sizes: 250g or 375g for your convenience.
Corn Flakes No Added Sugar: Wholesome Goodness
Discover a high-fiber, no-added-sugar cereal with Shanti's Corn Flakes and NO Added Sugar. Crafted from natural corn for a nourishing and balanced breakfast.
High-Fiber goodness that supports digestive well-being.
Sugar-Conscious balanced option without sugar
Available Pack Sizes: 250g or 375g for your convenience.
Corn Flakes Exporters India
We are the leading corn flakes exporters in India sharing culinary goodness globally. Our Corn Flakes transcend borders, bringing the essence of Indian craftsmanship and culinary expertise to the world. We export with care and precision. Our cornflakes represent a harmonious blend of flavor, nutrition, and cultural heritage. Indulge in a breakfast experience that knows no boundaries.