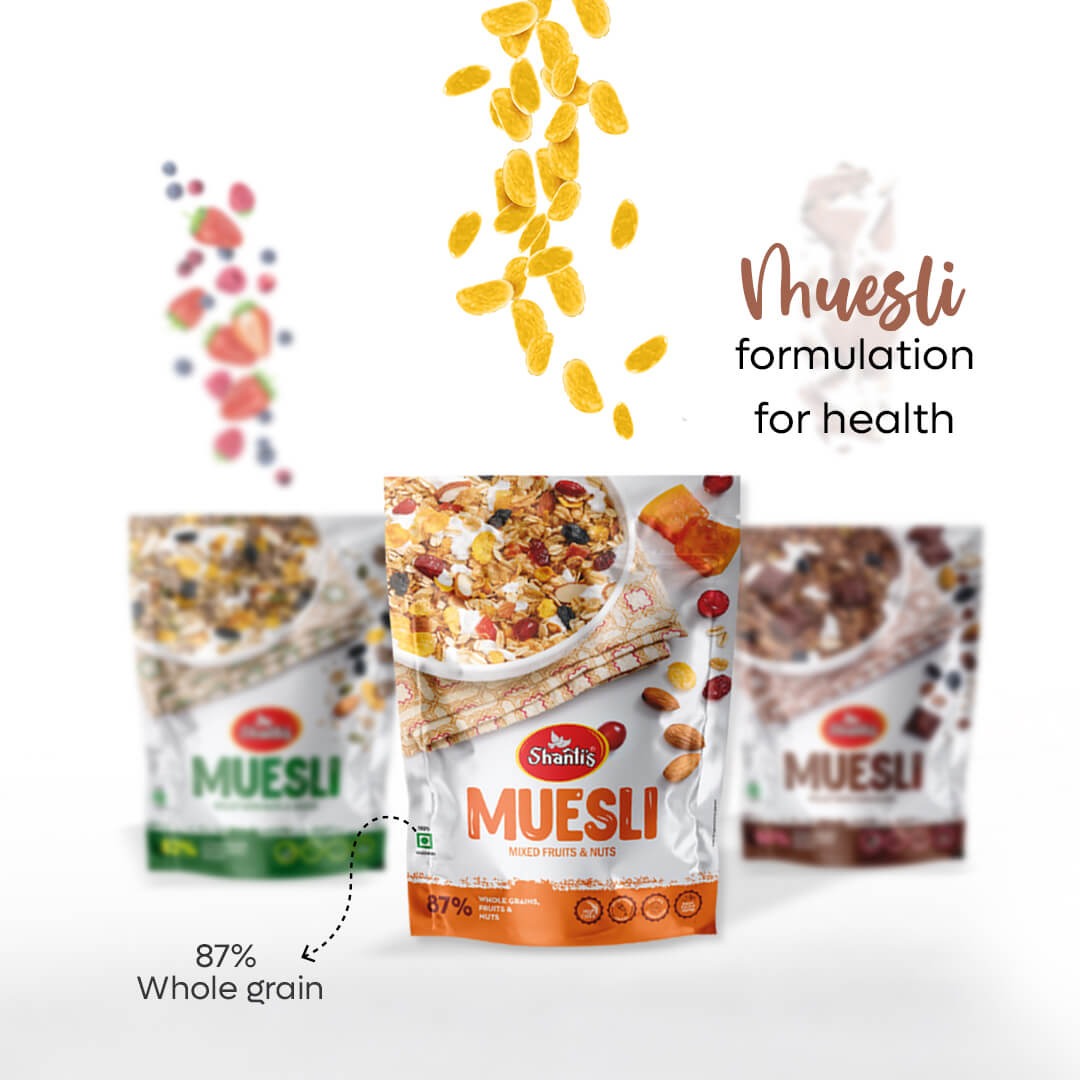 Mix Fruit Muesli
Shanti's mix fruit muesli is a healthy blend of gently roasted oats, corn flakes & wheat flakes mixed with roasted almonds and raisins. Fruit crushes and natural honey give it an additional punch, making it simply irresistible! This delightful cereal is a great start to your day with a perfect balance of whole grains and mixed fruits. Experience the fruity flavors of luscious strawberries, delicious apples and zesty pineapples blended with goodness of British oats & fiber rich bran.
Fruit muesli is a soberly scrumptious breakfast option. It is made using high quality corn flakes, roasted oats and wheat flakes. As the name suggests, fruit muesli even contain the touch of fruits. Whereas, a bowl of mix fruit muesli contains roasted nuts, like raisins and almonds as well. Mix fruit muesli is one of the tastiest versions of muesli and it is highly preferred by the muesli lovers.
Though, there are several muesli exporters, muesli suppliers and muesli manufacturers in India, but not all of them are as good as Shanti. Shanti's fruit muesli contains the tasty flakes, oats as well as fruit crushes and natural honey. Therefore, a bowl of muesli in the morning gives a perfect start to the day. Honey and fruits add a special flavor to the muesli. Shanti's muesli contains highest quality oats, flakes, scrumptious apples, juicy strawberries, and zesty pineapples. In fact, it is even rich in fiber as it contains a good amount of bran.
Therefore, Shanti has been recognized as one of the best several muesli exporters, muesli suppliers and muesli manufacturers in India. If you want to have tasty muesli which is full of nutrients every morning, then go for a pack of Shanti muesli, and you will definitely love it!
Nutritional Information
*Approximate Values
| Title | Per 100g Approx. | Per Serve 30g Approx. |
| --- | --- | --- |
| Energy | 28.7 kcal | 128.6 kcal |
| Protein | 10.3g | 3.10g |
| Total Fat | 9.4g | 2.80g |
| Saturated Fatty Acids | 1.3g | 0.39g |
| Mono Unsaturated Fatty Acids | 5.3g | 1.59g |
| Poly Unsaturated Fatty Acids | 2.8g | 0.84g |
| Trans Fatty Acids | 0mg | 0mg |
| Cholesterol | 0mg | 0mg |
| Carbohydrates | 75.8g | 22.7g |
| Of which Sugar (Sucrose) | 21.7g | 6.51g |
| Dietary Fiber | 8.0g | 2.4g |
| Vitamin (A) | 100μg | 30μg |
| Vitamin (C) | 25mg | 7.5mg |
| Thiamine (Vita B1) | 0.8mg | 0.24mg |
| Riboflavin (Vita B2) | 0.9mg | 0.27mg |
| Niacin (Vita B3) | 10.0mg | 3.0mg |
| Vitamin B6 | 1.3mg | 0.39mg |
| Vitamin B12 | 0.2μg | 0.06μg |
| Iron | 19.1mg | 5.7mg |
| Folate | 63.0μg | 19.0μg |
| Calcium | 103mg | 30.9g |